NU senior rucks historic 100 laps around Upper Parade Ground
On January 28, 2023, Agustin Tilca woke up and headed to his Sodexo shift as he would on any normal Saturday; but this was not a regular day for this senior cadet. 
"I like challenging myself, so I start thinking, 'What can I do that's a good challenge?' and I post on my story, 'Should I do one hundred laps on the UP?' Bam. I figured out that Tuesday I was gonna ruck a hundred laps that weekend," said Tilca, a senior Studies in War and Peace and Business Management double major in the Corps of Cadets.  
Rucking, a form of military-originated exercise involving walking or hiking with weight on one's back, requires immense physical and mental stamina. Tilca loves rucking, having built up his strength throughout his four years at Norwich.  
He said, "I didn't just full send it. I've been practicing it a lot. It's gotten me into way better physical shape, [and for] mental health, it's a great tool." His pack, stuffed with weights, food, and water, weighed roughly forty-five pounds. 
According to Tilca, rucking is "very slow, very steady, and very small gains, but very good overall." With the army's fifteen-minute-mile standard, it is easy to get overwhelmed and collapse under the pressure (and the thirty-five-pound pack). "It becomes a real mental game. You start feeling the weight, you don't know when your route is going to end, and all you can do is put one foot in front of the other… If you do it right, it's very rewarding." 
The soon-to-be graduate is training for the upcoming Nijmegen March in Holland, which involves marching two hundred kilometers over the span of four days, roughly thirty miles per day. "I figured I just wanted to see if I could make those thirty miles," said Tilca.  
His final distance came in at a whopping 33.30 miles, which he rucked over the course of nine hours and forty-eight minutes. 
The senior recently returned from a semester abroad at the Royal Military College Saint-Jean in Saint-Jean-sur-Richelieu, Quebec, which greatly motivated him to achieve this goal. 
While Tilca had hopes of personal achievement, he also intended for the feat to encourage his fellow peers, "I figured it'd be kind of funny just seeing this one random dude in full gear just walking around the UP for hours on end. I figured that would make people either laugh or maybe inspire them."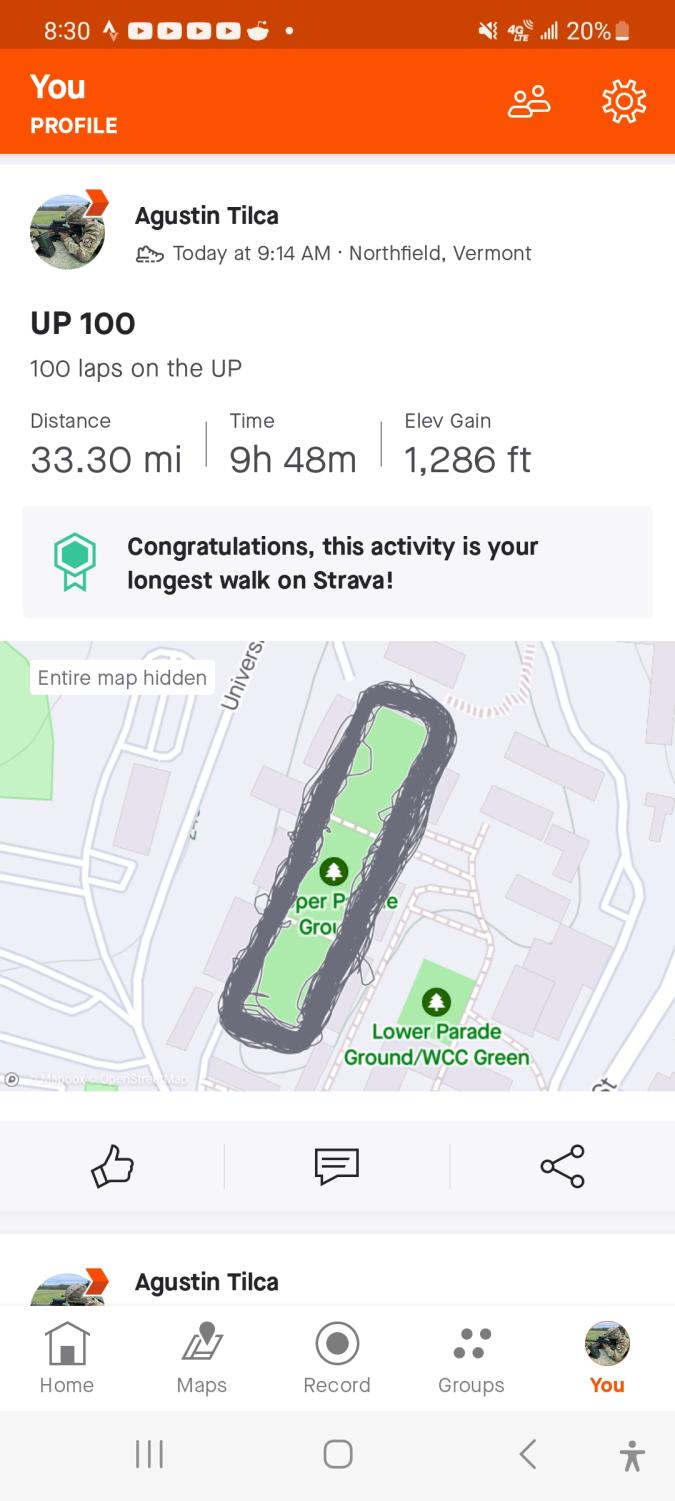 Even though Tilca was the only person to complete a full one hundred laps, he had a great number of students visit him throughout the day. Some were curious about what he was doing, some brought him granola bars and candy, and others even joined in for a few laps.  
"What was really inspiring for me, and honestly very motivating, [was] seeing people come out and walk a couple laps with me and ask me how my day's been…" said Tilca, "What kept me going was the people that were out there cheering me on." Tilca listened to music, podcasts, and audiobooks during the ruck, trying anything to distract himself. 
Johnny Tran, 22, a senior Construction Management major in the Corps of Cadets, was one of the many students who stopped by to see what Tilca was doing that day. He said, "He was on the 20th Lap around the UP when I [happened] to walk by him from chow… He is a very motivated and determined cadet who has his heart set on the right place and physically challenges himself to surpass his limits." 
Tilca's roommate, Daniel Lavin, 22, a Health Sciences major in the Corps of Cadets, was out of town the weekend he completed the UP 100 but supported Tilca from a distance. "I got a phone call from a couple of my friends that were like, 'Lavin, are you tracking that Tilca actually did the hundred laps?' I was like, 'He did?'" 
Lavin followed Tilca's journey by watching his Snapchat story, which he used to vlog the entire experience. Viewers witnessed the transition from day to night in Tilca's video documentation as he continued to trek on for hours. "It did surprise me, but it didn't at the same time because he's always been pushing himself to do crazy things… It's been really inspirational just seeing what he's been able to do. He puts his mind to something, and he does it," said Lavin, "I was proud of him that day." 
Long before completing the miraculous thirty-three miles, Tilca did experience some second thoughts. "After the first lap, I was debating if I should continue or not… [At] lap thirty, that's when I really felt my legs start to hurt. Lap seventy, I was just fried."  
Even with minimal breaks and inevitable self-doubt, he completed the entire one hundred laps in a single day, a testament to both his physical and mental endurance.  
Tilca's one hundred laps mark a personal achievement as well as an uplifting community occasion. He started the journey with a positive attitude that carried him through the day, inspiring those around him. While his actions may have started as a method of proving a point to himself, they quickly adopted a much greater meaning and connected with many students on campus. 
 "People don't think they can do something until they have to," said Tilca, "How would you know if you don't try?" 
Leave a Comment
Your donation will support the student journalists of Norwich University. Your contribution will allow us to purchase equipment and cover our annual website hosting costs.
About the Contributor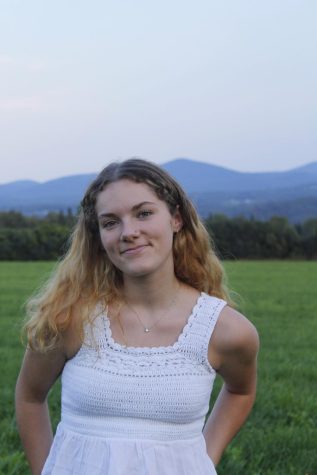 Sophia Jerome, Staff Reporter
Sophia Jerome is an early college student who commutes to Norwich University. She is an active student council member at Montpelier High School, plays...