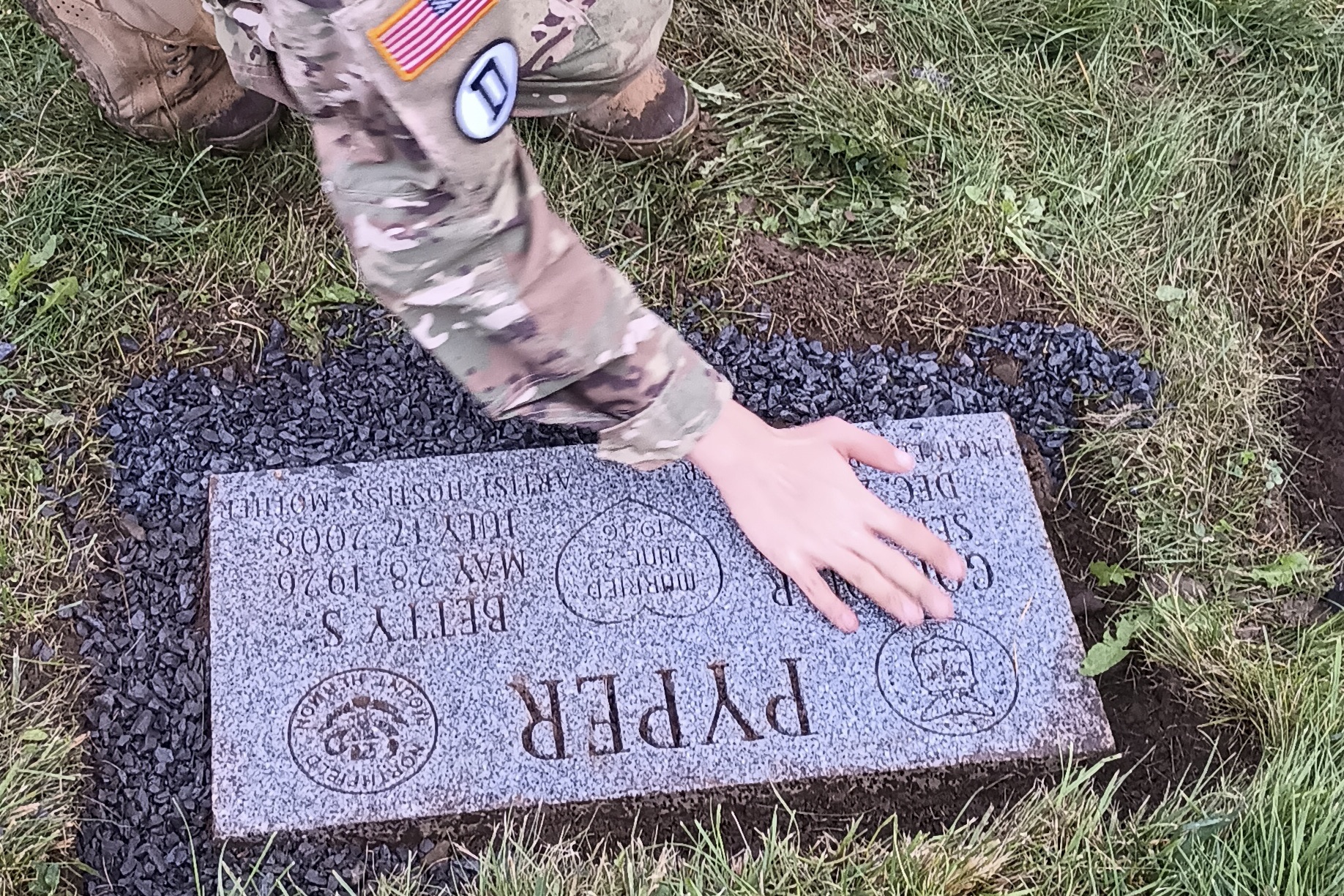 The Norwich University Chinese Club initiated its first tomb-sweeping event earlier this week at Norwich Cemetery on Dole Mountain, hoping to turn this activity into a traditional service event. The goal is to allow alumni and visitors who come back to come and see the cemetery in a positive state.  
"As a Chinese Club, we are constantly looking for new ways and ideas to celebrate the culture," said Patrick Blake, 21, a junior corps of cadets student majoring in International Studies who is also the Cultural Officer of the Chinese Club from Lunenburg, Massachusetts. 
In China, there is an annual spring tradition called Qingmingjie, also called Tomb Sweeping Day, where members of the Chinese communities would show respect to their ancestors. This would take practice by tending to ancestors' tombs, leaving offerings, and burning incense. It is also an opportunity for Chinese families to take a day's leave and spend it with family.  
Last spring, the Chinese Club attempted to reach out to Hopes and Northfield cemeteries. This was an attempt to "…cleaning some of the damages the recent rain and weather had caused; we chose these two cemeteries because they are not in as of good of conditions as some of the other local ones," said Jake Mclaughlin, 20, a junior corps of cadets student majoring in International Business.  
However, due to heavy snow last spring, the Chinese Club was able to arrange it at Norwich Cemetery on Dole Mountain before the Alumni weekend.  
"Choosing Northfield Cemetery was a good idea. Cleaning up the headstones and putting in fresh stones to decorate the names allows us as students to give back to those who gave to Norwich," said Analyse Hughes, 20, junior corps of cadets' student majoring in Studies of War and Peace who is also the Fundraiser Officer of Chinese Club from Kansas City, Missouri. 
"Headstones consist of marble and are sensitive to what it can be cleaned with," said Hughes. Norwich Cemetery offers three different kinds of materials for headstones, and each type requires a different care.  
"We need to learn the different cleaning techniques so that next year we can teach others."  
This year the board of Trustee and Cemetery Association helped with donating most of the power washers and solutions.  
"If we do a good job, we will gain the trust of our alumnus and the town for more equipment in future years," said Mclaughlin.  
The Chinese club had been funded with a $600.00 grant, but most of the equipment and solutions for tomb sweeping were donated. The grant will instead be turned towards other cultural trips and events, such as the Montreal China Town Visit. 
"If I had to describe my experience in one word, it would be powerful," said Jayden LaVecchia, 18, freshman corps of cadets' student majoring in Studies in War and Peace from Post Falls, Idaho.  
"I feel like I am creating a much more positive environment for the people on the hill.  Being part of the Norwich legacy and contributing to this act is what makes it powerful." 
The Chinese Club continues to plan on cleaning up the remainder of the headstones before Alumni weekend as weather and conditions are safe for students. 
With unique Vermont conditions, the long-lasting snow and weather have allowed this event to be enjoyed in the fall annually.