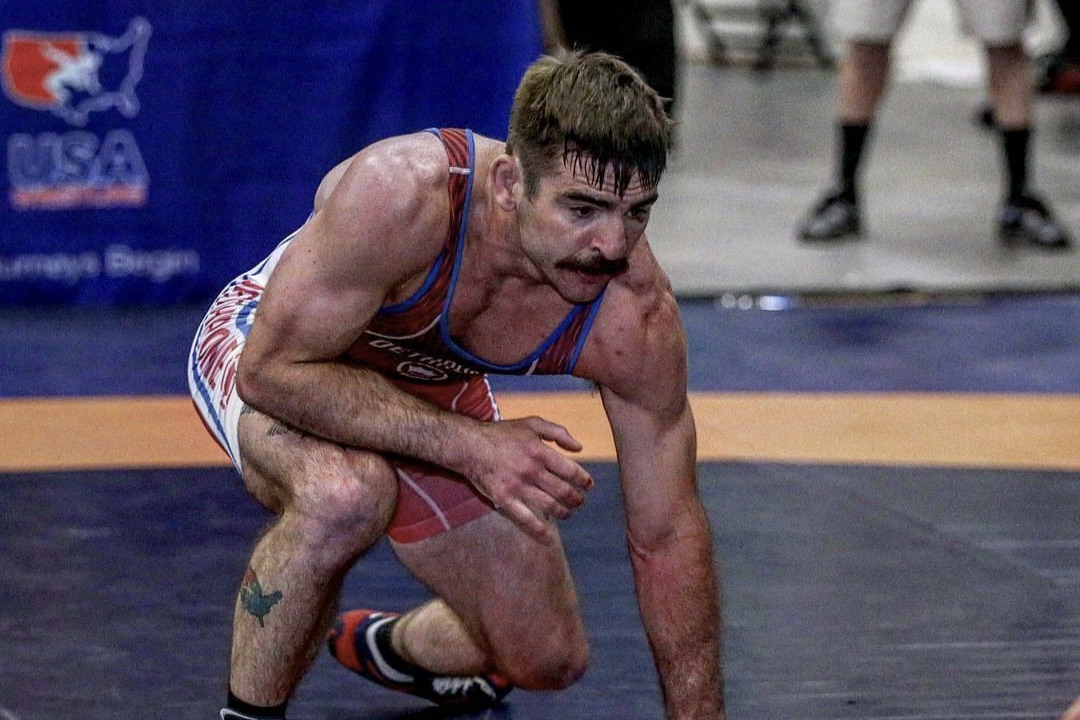 ---
Norwich University assistant wrestling coach Connor Keating, class of 2009, heads to Loutraki, Greece, where he will be competing for a Masters World Championship title.
He leaves on Sunday, October 15th, will be in Greece for a total of eight days, and begins competition on Thursday, October 19th. He will be moving up to the 78kg (171.9 lbs) weight class. During Keating's most recent competition, the US Wrestling Open in Las Vegas, he was in the 70kg (154.3 lbs) weight class. Excited for the trip, he wants to learn from the other athletes what keeps them coming back to the sport and what keeps them motivated.
"I love to learn anything that I can bring back to share with my student-athletes, and I want to win a world championship in the process," Keating confidently states.
"I want to be proud of my effort and know that I was creative and expressive in my wrestling as well. I don't want to hold anything back."
Connor committed to wrestle for Cadets early on. From a young age, he was drawn to the competitive sport of wrestling, leading him to join tagalong practices at just three years old. He was inspired by his brother, who was already wrestling at the time. "I started wrestling in kindergarten," Keating recalls fondly.
"It was the youngest you could compete."
Keating never lost his interest in the sport.
Ever since those first practices, Connor explains how he basically grew up in the Norwich University wrestling room. The connection to Norwich was made after attending a freestyle club. "The head coach at the time ran those freestyles," recalled Keating.
"Then, I knew that being surrounded by people who were focused on their futures and had discipline in their lives would rub off on me."
After graduating from Norwich with a communications major in 2009, Connor began to explore his love for travel while intertwining his love for wrestling. His journey has taken him worldwide, including a win in Thailand at the No-Ji Jujitsu Festival. It was while in Thailand that former Norwich wrestling teammate, and current Norwich University Wrestling Head Coach, Alex Whitney called inquiring about Keating's interest in coaching at Norwich.
"I was looking for a reason to come back to the U.S. (and) I was excited for the opportunity to coach wrestling again," explained Keating. In the fall of 2012, Keating began as an assistant coach for Norwich wrestling, then took on an additional role as assistant coach for the women's rugby team in the fall of 2015.
"I love wrestling, so the chance to compete is always exciting to me," shared Keating.
"I also value the opportunity to test myself as a person and to test the craft that I have spent so many years honing. As a coach, the opportunity to train and compete as an athlete is a good reminder of what I ask of my athletes every day. It helps me see things from their perspective and determine if my methods are helpful, healthy, and meaningful. I am also excited to come back and share what I have learned from this experience with my athletes."
Coach Keating summed up his feelings when he said "I'm grateful for the support of my wife Kaitlyn, family and friends, the Norwich community, and the greater wrestling community. Most of all, I'm grateful to be healthy enough to pursue my passion and to be blessed to find and expand my limits."
We are all united in celebrating and rooting for Keating as he represents Norwich University, Norwich Wrestling, and Northfield in Greece. When he returns on Monday, October 23rd, make sure he knows we are all proud of him.