Norwich SGA hosts candidate conference
The Norwich Student Government Association (SGA) executive candidates congregated in the Wise Campus Center Fishbowl to connect with current students and answer their questions regarding the upcoming election. 
"Small events like this are good for students to get to know members in the SGA and get to know members in the community," said Sean Bassi, 21, a senior cadet on the SGA Election Committee. 
 SGA organized the Monday event in hopes of conversing with fellow students and promoting interactions between the student body and student government. The event had an open-door policy, letting both the aroma of Sodexo and the curiosity of passing students waft into the room. While there are many positions on the ballot, this event particularly featured the candidates running for executive positions: President and Vice President. 
The NU SGA is a student organization with a mission to foster connections and maintain communication between the student body and university administration. They focus on students' well-being, community engagement, and campus policies. 
Hannah Kolb, 19, is a junior civilian commuter currently running as a Presidential and Senatorial candidate. When asked about the purpose of events such as these, she said she hoped to talk to more students not affiliated with SGA and get an outside opinion. "Hopefully, this will allow the people that are running to engage in what questions people have, but also to engage the students not in SGA and get their perspective," said Kolb. 
 In addition to interacting with students in open community settings such as this one, some candidates plan to campaign through various other methods in the coming week. Bryon Peters, 20, a resident in the Corps running for SGA President, said, "I'm gonna go to everyone's dorm rooms and knock on doors. I prefer the old fashion method."  
 When asked about his aspirations for the future of SGA, Peters said, "A lot of people hope to start things that will last a while… I kind of just want to make an immediate impact, mostly on the morale of students." Whether it be a chocolate fountain, marshmallow station, or student field days, Peters hopes to see more enthusiasm and interactions among the student body. 
 There were six Presidential candidates as of February 13th, and students who were running but did not show up to the fishbowl had twenty-four hours to respond to the advisor of SGA, Doctor Michael Kelley, or else their name was dropped from the ballot. The official list of remaining candidates will be released on Monday, February 20th. 
 Voting will take place electronically from Monday, February 20th, to Friday, February 24th. Students can vote for one person per executive position and up to four candidates for senator positions in their respective grades. The voting platform will have information about each candidate so that students can make an informed decision. Keep an eye out for more information regarding the SGA election and all of the candidates coming soon. 
 The SGA executive panel created opportunities for students to engage with current and future candidates and become involved with important campus affairs. The election also allows students to use their voice to vote for what they care about and prepares them to be active members of society as young adults.  
 By encouraging communication between students and executive officers, SGA fosters strong connections between students and administration while humanizing the voting process. "The main benefit small events like this have is just putting a face to a name," said Bassi. The casual environment both stimulated intellectual conversations and excited students to be involved in the campus voting process.  
Leave a Comment
Your donation will support the student journalists of Norwich University. Your contribution will allow us to purchase equipment and cover our annual website hosting costs.
About the Contributor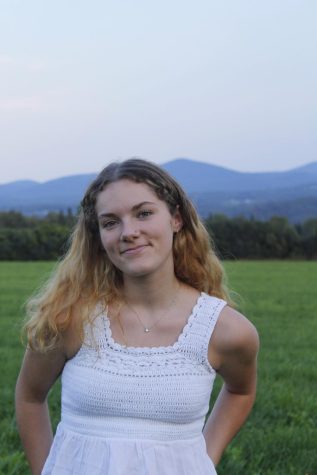 Sophia Jerome, Staff Reporter
Sophia Jerome is an early college student who commutes to Norwich University. She is an active student council member at Montpelier High School, plays...