TikTok soon to be banned on campus
We all know what TikTok is and why there is so many controversies about it. Countless parents have voiced concerns, and schools have been banning the use of such trending app on campus but what about Norwich University (NU)?  
"If the Department of Defense has already followed through, as a Senior Military College, we are setting an example…Between campus and national, national is more of a priority," states August Guerrieri, Political Science major '24, Corps of Cadets, referencing to the military academies who have yet to do anything about TikTok. 
Congress banned TikTok from government-issued device, "exceptions for law enforcement activities, national security interests and activities, and security researchers…" (S.1143) to protect its employees against America's adversaries.
 However, Keegan Butler, Political Science major'26, Corps of Cadets, states otherwise. "This is just another "Norwich first," we (SGA) are just college kids, playing dress-up." The concern is that SGA is only prioritizing the military perspective of this school and forgetting that Norwich University also consists of students who are not pursuing a government job or the military. 
The Student Government Association (SGA) held a meeting in January 2023, to vote on the TikTok bill. The voting process was 17 – 3 in favor of banning TikTok on-campus internet, having one absence in the voting process. This was following a 2/3 majority (15 vote). 
As a press, we have reached out to the president of SGA, Keegan Coulter, in request of in-person interview about his decision against the TikTok ban. We failed to receive any response.  
TikTok has become a major tool in marketing and for business majors. With the app, users are "found and followed by those who like your products, ideas, or simply you as a person (your brand)," states Lindsey Dukette, student Guidon Marketer, Business Management major.  
If Norwich University bans TikTok, will the school be degrading students' experience from a fast-growing platform? Is this a form of censorship? These are all questions that SGA did not take account for during the decision-making process. 
There are also students on campus who rely on TikTok as a side income and as an expression of self. TikTok will still be able to be accessed on cellular data. Still, Daniel Liy, a freshman representative of the SGA, states that the Student Government Association hopes TikTok "…will be made an inconvenience, and overtime students will use the app less before fading away." 
SGA has sent the final version of the TikTok bill to NU administration to approve. The process has taken a longer time than expected two-week time since it involves the school's reputation.  
Leave a Comment
Your donation will support the student journalists of Norwich University. Your contribution will allow us to purchase equipment and cover our annual website hosting costs.
About the Contributor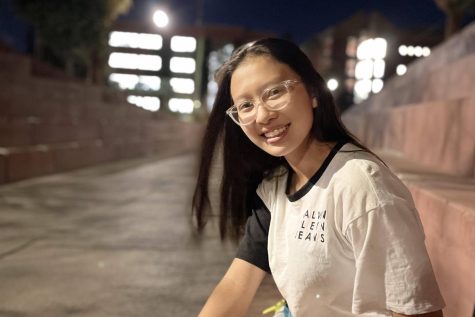 Lilian Lu, Staff Reporter
Lilian Lu is the Guidon's Student Community Reporter and Social Media reporter. She is also working as a work-study with the Guidon.

Lilian is a freshman...