The Pegasus Players shake up Shakespeare for their upcoming production
The Mack Hall auditorium is bustling with excitement as the Norwich Pegasus Players gear up to take the stage for their upcoming Shakespearean spring production. 
 "I think [particularly for] veterans [and] trauma survivors…. There's this shame; there's this isolation because you can't talk to anyone you love about it. Some people feel that way. And you go into a theater, and you see yourself on stage that's sort of from Shakespeare from 400 years ago. There's a sense of reaching across time and connecting with people," said Jeffry P. Casey, assistant professor of theater and director of theater at Norwich University.  
 The Pegasus Players are Norwich University's longest-running student organization that typically produces two productions each school year. While they rotate through musicals, short plays, and traditional dramas, their shows are always sure to impress. This February, the cast and crew present a compilation of Shakespearean plays and monologues, contributing to a cohesive performance full of twists and turns. 
 "Shakespeare at War/Shakespeare at Peace" takes viewers through the rich history of Shakespeare's most distinguished works, but the production may have more modern implications than expected. The Pegasus Players' upcoming production is a story of life and death and even features one climactic romance between two men preparing for battle. The show is both a glance into the past and a reflection of today's society, one which all audience members can walk away from feeling enlightened.  
 While Shakespeare's work is centuries old, he is still renowned as one of the best writers of all time. This fact is clear to the cast and crew who have been hard at work transforming his dated and complex scripts into an engaging, modern theatrical performance. 
 Two students shared their experiences with the upcoming show and why they think Shakespeare is still important today. Justin Salo, 19, a residential student in the Corps studying International Business, plays Henry IV along with a few minor roles. When asked about the purpose of the production, he said, "The message it puts across is 'these are not new issues we've been dealing with.' These have been things that have been recognizable for a long time, but now we're getting to a point where we can talk about it."  
 One prominent aspect of this compilation of Shakespearean shorts is the representation of social issues hidden beneath the surface. Salo shared his take on the themes of the production, which include war, love, trauma, and "grief for things that have yet to come." He believes that demonstrations of anxiety and worry come up, particularly in his scene, causing his character to ask themself, "How are you going to deal with these things eventually?" 
 According to Salo, the value of examining older texts such as Shakespeare's is that it allows us to examine current issues and "use ways that people used to talk about it to express how we feel if we can't word it ourselves." By considering the historical impacts of social issues and how people have approached them, one can develop a deeper understanding of how to address current conflicts. 
 Alyssa Atwood, 21, a commuter civilian studying Elementary Education and Mathematics, is a longtime member of the Pegasus Players who plays Macbeth and Aufidius. Similarly to Salo, Atwood has gradually discovered the value of examining Shakespearean theater in modern contexts. She said, "People think of Shakespeare as something that you just read in high school as a boring play that you just have to get through… but I think here it's kind of like, at least reading through my shows, this really applies to the way that we could handle situations and interactions." 
 One of Atwood's scenes is an interaction between two nemesis warriors, Coriolanus and Aufidius, as they prepare to go into battle. This scene has commonly been analyzed as having homosexual undertones and Atwood described it as a sort of "coming out story." She said, "[Shakespeare is] kind of dabbling in this world of questioning your sexuality and identity and questioning everything that you've known all your life." This scene exhibits one of many deeper meanings that audiences can interpret from the entire show. 
 The fifteen-student cast is broken into multiple sections that overlap based on the characters in each scene. Casey directs all but three scenes, which are led by two Norwich students and one guest director, Amanda Rafuse. While not often considered, the directorial side of the theater is just as important as the acting. When asked why he enjoys theater, Casey replied, "The cool thing about playwriting is you write it like a blueprint, and then you give it to someone else. And then their problem is to figure out how to make it work on stage." With four different directors' perspectives, the production is a unique collaboration of distinctive creative approaches that lead to varied audience interpretations.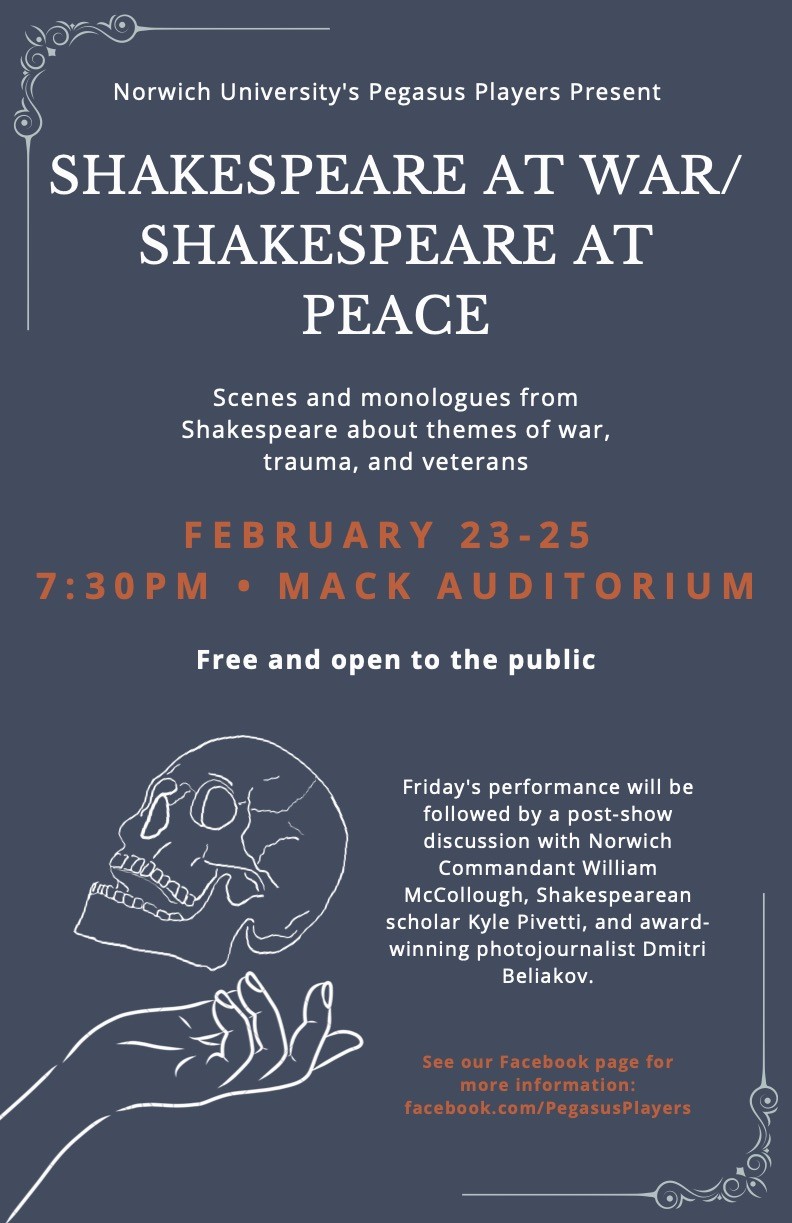 The Pegasus Players take the stage on February 23, 24, and 25th at 7:30 p.m. in Mack Hall Auditorium. The event is free and open to the public. The theater doors open to the public at 7:15 p.m., where audience members will venture into the historical and evocative sphere of Shakespearean theater. Salo encourages audience members to "come into it with an open mind. Be prepared for words you won't get, and you might have to Google [them] during intermission or after the show." 
 This production will close out the 2022-23 theater program until the student thespians return in the fall with some departed and some fresh faces. Regardless of the time period it originates, Sh
akespeare's plays significantly mirror the challenges and values of the world, and the Pegasus Players' renditions are sure to inspire all. 
 "While the wording is not up to date or current, what is being said beneath all the fancy, fluffy words is meaningful and impactful today," said Atwood.
Poster for the upcoming Pegasus Players production. Courtesy of Jeffry P. Casey. 
Leave a Comment
Your donation will support the student journalists of Norwich University. Your contribution will allow us to purchase equipment and cover our annual website hosting costs.
About the Contributor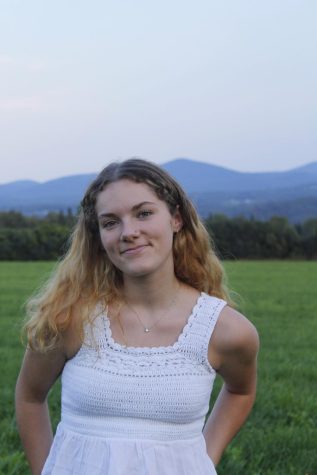 Sophia Jerome, Staff Reporter
Sophia Jerome is an early college student who commutes to Norwich University. She is an active student council member at Montpelier High School, plays...