Norwich Together Project designed to include student input, but questions remain.
Amid rising financial difficulties, declining enrollment, and low campus morale, Norwich University has launched the "Norwich Together Project." 
The initiative aims to "gain insights into… experiences, feelings, and perceptions as a student at Norwich University." Through compiling this information, the project hopes to "improve the 'Norwich experience' for… students of the future."  
The main effort of the project utilizes interviews to receive student input, with appointments available through Friday of this week. Questions can be directed to Sarah Stefaniuk at [email protected]; students can also email Sarah if interested in being interviewed.  
Additionally, the initiative also has a short survey. The survey is available here and takes approximately 15 minutes. The deadline to complete the survey has been extended until March 31st to ensure every student can make their voice heard.  
With Norwich President Mark Anarumo seeking to increase enrollment and improve the quality of life on campus in recent years, hearing from the student body is a top priority for him.  
"The best way for us to enact meaningful change is to learn from you [students] directly… please help us as we build the Norwich that will thrive for the next 200 years."  
Chief of Staff Danielle Pelczarski agreed with President Anarumo about the importance of the project. 
"The Norwich Together Project's focus groups, surveys, and one-on-one meetings are the Rosetta Stone to the evolution of Norwich University." 
The initiative is not without its shortcomings, however.  
Within a project designed to uplift student voices, it is seemingly completely staff formed, planned, and operated.  Furthermore, the initiative started last week, overlapping with various field training exercises; these FTXs reduced student availability, and as a result, the overall effectiveness of the program suffered.  
Finally, the limited length of the project – only two weeks – raises eyebrows. If the intended goal is to hear student voices, why construct a program designed only to hear student voices for a short period of time? 
While these concerns and questions remain, students are invited to participate in the project, with the Chief of Staff reminding students that "it is so important that every student do their part by speaking up and allowing their voice to be heard." 
Leave a Comment
Your donation will support the student journalists of Norwich University. Your contribution will allow us to purchase equipment and cover our annual website hosting costs.
About the Contributor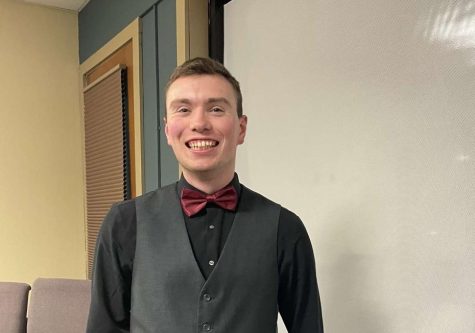 Mathew Kolb, Student Reporter
Mathew Kolb is a student reporter for The Guidon.

Graduating in December 2023 with studies in War and Peace, Mathew is also a member of the CGRS Student...