Prospective students experience first NU 101 this past weekend
Same date, just a different time.
I was standing in this very place as a prospect having Norwich as a candidate college.  I remember coming to Norwich on a day colder than the 40-degree weather we're having today, or was it as an Arizonian; the weather was just something I hadn't anticipated.  
I had spoken to numerous clubs and just remember telling myself that I will never remember where all the buildings and classes are. Little did I know taking the shortest way between each one was not possible as a freshman in the Corps of Cadets.  
What motivated me to come, besides my curiosity, was the financial exchange. For some prospects, we received a financial offer of $500 a semester for visiting the campus during NU101. Some prospects also had their flight covered, but for me, this wasn't the case. Although the cost-benefit deal was not as impactful, being at NU101 helped me finalize my college decision.  
Fast Forward…  
Today I stand as a representative of the Norwich Cadets and as a staff reporter for the Guidon. Seeing future freshmen come and speak to them about the opportunities Norwich offers is a whole new perspective that I did not foresee.  
"It fills me with hope for the future; there's a surrealness to being these kids' first impression of the school, being that impression is an honor, one that I'm honored to have earned," states Sawyer Hernandez, a freshman in the Corps of Cadets. 
NU101 is one of the few events where the school connects to the community and shows what we have to offer.

Members of the NU Filipino-American Club 
Karolijoseph Hinojosa Ruiz, an incoming Air Force prospect from Texas, shares his experience with this event:  "It was way beyond what I was expecting. The people I have met and the environment created here made me feel like being here, and investing in the people and place made me feel like it's worth coming to Norwich. " 
NU101 is a two-day event that holds an open house on the second day in Plumley Armory, where more clubs and activities on campus can project their image.  
Freshmen cadets showcase their stationary drills and marching skills in front of prospective students.
Kathleen Laramie, an incoming air force prospect from Nashua, New Hampshire, describes her perspective of Norwich: "It's great when you graduate college. This school will better prepare you than a normal college. It's very informative."  
We can't wait to see what next year holds! 
Leave a Comment
Your donation will support the student journalists of Norwich University. Your contribution will allow us to purchase equipment and cover our annual website hosting costs.
About the Contributor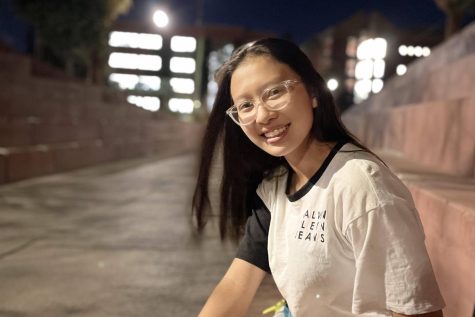 Lilian Lu, Staff Reporter
Lilian Lu is the Guidon's Student Community Reporter and Social Media reporter. She is also working as a work-study with the Guidon.

Lilian is a freshman...