Henry Dennee: The Cadet Leading by Example as Norwich University's Regimental Commander
A Cadet every rook and upperclassman undoubtedly knows the name of, the distinct Cadet with three shiny diamonds with a  responsibility encompassing far more than what meets the eye is chosen every year. This individual, the face of the Corps, represents every single Cadet every single day. As Regimental Commander, this lone senior Cadet greets their most challenging year with open arms and a positive attitude, willing to give their all for the betterment of the Corps.  
In early 2023, Jackman named Cadet Henry Dennee as the 2023-2024 Regimental Commander. 
Cadet Dennee said, "I'm so unbelievably excited to try to open up the curtain and a little bit of the mystery around the high regimental staff. I really think it is important that whatever we decide to do, every single cadet on campus knows exactly why we are doing it. I'm not going to have 100% compliance and support with every decision that's made, but the American Soldier, and through that, Norwich Cadets tend to work a lot better when they have a reason behind doing something." 
Immediately, upon hearing the announcement, Cadets were urged to learn what Cadet Dennee's plans were to change the Corps and what his beliefs entail about traditions, history, and personal values.  
Thankfully for the Corps, it looks like Cadet Dennee's main mission for this upcoming year is to foster a connection between Regimental Staff and the line companies, a relationship that has been tattered for years. While line companies make up a vast majority of the Corps, all of the decisions directly affecting these Cadets come solely from the Regimental Staff, often with no explanation. 
Furthermore, the upcoming Regimental Commander wants to extend the line companies' ideas all the way to the high staff. Cadet Dennee said, "I've been trying to spread the word that if you have an idea or if you know there is a better way of doing something, reach out to me." 
With this fresh, new mindset for the Corps of Cadets that Cadet Dennee brings to the table, Cadets may now have a voice in important affairs about their own well-being and leadership.  
Even with the title of 2023-2024 Regimental Commander and all of this authority, while being asked what Regimental Commander means to him, Cadet Dennee addressed the grand importance of maintaining responsibility, both when things go right and when something goes terribly sideways.  
Regarding responsibility, Cadet Dennee said, "Everybody looks at the Regimental Commander, and the first thing they see is the shiny rank. You're the highest-ranked cadet on the hill. However, people don't see that most of the job revolves around responsibility. No matter what happens on this campus, if it involves a Cadet in the Corps, I'm responsible, both good and bad. If something goes wrong, at the end of the day, that falls onto me because I'm the one in charge of the Corps and every Cadet's well-being.  
As we move into the next school year, the Corps of Cadets is buzzing to see what Cadet Dennee will do and what new policies he will implement to enhance every Cadet's time in the Corps.  
Besides the fact that the Regimental Commander is the highest public figure for Norwich, ultimately, at the end of the day, they are just a student receiving an education, trying to figure out their future. 
Many people know of Cadet Dennee; however, many don't truly know him. Cadet Dennee is an active member in Tau Beta Pi and Pi Tau Sigma; both honor societies in the engineering field. He also is on club hockey and has been playing hockey far before coming to Norwich.  
In the Corps, Cadet Dennee was a Rook in 4-2, then became an assistant squad leader his sophomore year in 4-2. Although he had aspirations to stay in 4th Company in his junior year, he became a master fitness trainer, assisting Cadets all over the regimental to improve their physical fitness scores.  
Surprisingly, Cadet Dennee had no idea that he would ever become the Regimental Commander his senior year. He said, "I would not have imagined myself as the Regimental Commanding Officer in a million years." However, Cadet Dennee said he "decided to go out for Regimental Commander because I wanted to be able to implement change. I wanted to leave the institution better than when I found it." 
Cadet Dennee's words of inspiration to the Corps of Cadets are, "Don't be afraid of making mistakes. Don't be afraid of not being perfect across the board. Stay true to yourself." 
Leave a Comment
Your donation will support the student journalists of Norwich University. Your contribution will allow us to purchase equipment and cover our annual website hosting costs.
About the Contributor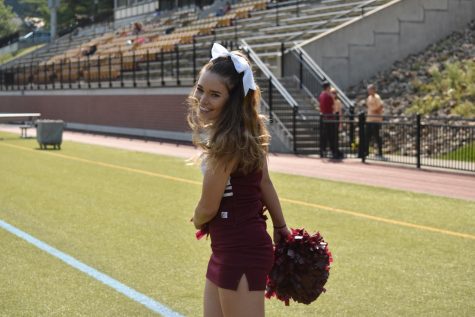 Sophia Righthouse, Staff Reporter
Sophia Righthouse is part of the Class of 2025, majoring in Political Science and English while minoring in Leadership studies.

At Norwich University,...