Norwich students brave sub-zero temperatures
"When I first came to Norwich, I didn't expect the weather to be this bad, just wintery. I lived in New York for a few years when I was younger, so I, of course, knew what the snow and cold were. I'm not just a die-hard Floridian. I just didn't expect below-zero temperatures; I thought that only happened further north than Vermont," said Chirana Warren, 20, a junior cadet criminal justice major from Florida.  
 Numerous students have never experienced the dreadful winter which plagues Norwich University for over half of the school year. Freshmen year is swarmed with searching for the best jackets to buy and the strangest techniques to stay warm.  
However, for some students, snow and sub-zero weather is not new. More often than not, students from the surrounding New England states encounter this unfortunate climate yearly.  
 Garrett Mack, 19, a sophomore cadet management major from Maine, said, "As long as I have a gator and a jacket, I don't mind going outside. I always experience this weather in Maine." 
 As winter arrives, snow sports have a chokehold on Norwich students. Hundreds of students flock to the slopes as the weekend approaches. Some even justify dealing with the cold for the best ski slopes in the Northeast.  
 Some students come from states much colder than New England, which is almost impossible to believe.  
 Bryce Shafer, 20, a junior cadet construction management major from Alaska, said, "Alaska is pretty similar to here. Alaska has had some pretty crazy blizzards and definitely a lot of snow.  The weather is what you make of it, I learned how to ski, and I enjoy playing in the snow, especially when I'm wearing the right clothes." 
 When I came from California, the sub-zero temperatures were a huge shock and the hardest thing to get used to. Nearly everyone attempted to "prepare" me for what was to come; somehow, that wasn't enough.  
 Growing up, 75-degree weather was typical for me year around. Occasionally we might get rain, but snow, now that was unheard of.  
 Last year, when I experienced living in a foot of snow and sub-zero temperatures for the first time, I thought I could never make it through. However, as I'm attending the second year of college, it's starting to get bearable.  
 Of course, as most students on campus last Friday when temperatures hit mid -40 degrees Fahrenheit, I stayed inside and enjoyed the warmth of the barracks.  
 Warren said, "I'm prepared to be in cold weather now because I've been here for three years. Now, I know how to dress and prepare for it." Hopefully, by next year I'll have figured out the art of bundling up and facing the cold.  
Leave a Comment
Your donation will support the student journalists of Norwich University. Your contribution will allow us to purchase equipment and cover our annual website hosting costs.
About the Contributor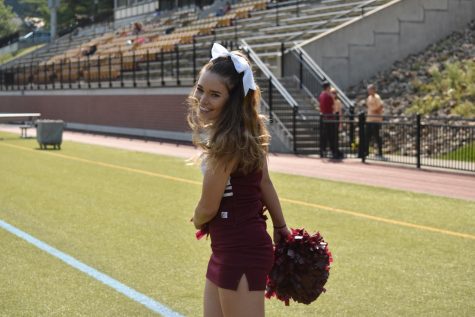 Sophia Righthouse, Staff Reporter
Sophia Righthouse is part of the Class of 2025, majoring in Political Science and English while minoring in Leadership studies.

At Norwich University,...