International students speak about their difficulties at Norwich
Attending college in the United States is a big dream for many international students. It is a goal that takes a couple of years to come true. Norwich University is no exception, as it has a large community of international students. 
Toluwani Olukanni, 18, a sophomore civilian electrical and computer engineering major from Nigeria, said, "I would describe being an international student at Norwich as an adventure. I had to discover almost everything by myself, especially since I suddenly transitioned from being under my parents to being independent." 
Even though Norwich has a sizable population of international students, they still face many difficulties studying here. 
Norwich University's Admissions Office states that in the fall of 2022, students from 21 countries were accepted. The largest international populations are from Nepal, Ghana, and Canada. 
"I had to go through some hurdles, such as getting a job, filing taxes, getting a mobile service provider, and getting a bank account," said Olukanni. 
"It was especially hard for me since I was also very young," said Olukanni. "But thankfully, I had family here in the U.S., so I was not completely alone, and the International Center put in a decent effort to help us with the processes." 
Even though Norwich officials have created an International Center to help these students, many of them still need assistance. 
"As an international student at Norwich, there have been some challenges that I have faced," said Amaranth Amaranth, 22, a sophomore civilian computer science major from India. "One of the greatest difficulties I've encountered is the lack of international cuisine available on campus; another challenge I've faced is transportation, but despite these difficulties, Norwich has provided me with support," said Amaranth. 
Amaranth also shared, "I have been able to secure jobs that I enjoy, including working as an RA and in other positions. However, the most challenging aspect of being an international student does not have a place to call home." 
"During breaks, I must find alternative accommodations, which are extremely costly, and I have to budget my finances carefully to ensure I can afford to travel back to India during the summer break," said Amaranth. "Unfortunately, with the rising cost of tuition, it's becoming increasingly difficult to continue my studies at Norwich, which is heartbreaking." 
"Sometimes, I feel like I am making a big mistake studying here. Being an international student is much more difficult than everyone thinks. The last time I was in my home country and saw my parents, I was 16, and I am almost 18 now," said an international student who wanted to remain anonymous. 
"I would like Guidon not to write my name because I don't want my response to feel like a complaint," they said, "I cannot blame Norwich for that because they help me a lot, but sometimes, I just want others to understand my feelings. I feel so jealous of American students who can easily go home during breaks and who don't need to struggle with documents, insurance, and taxes," they also mentioned.
"I know that I cannot blame anyone, and I don't, but that is how we feel." 
Leave a Comment
Your donation will support the student journalists of Norwich University. Your contribution will allow us to purchase equipment and cover our annual website hosting costs.
About the Contributor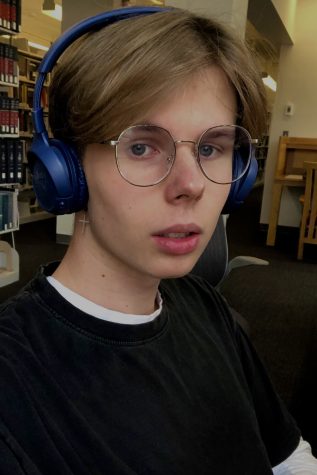 Andrii Shadrin, Campus Life Reporter
Andrii Shadrin is the Gudion's Campus Life Reporter. He is currently a civilian student, graduating with the class of 2026. He is majoring in both English...