Hate speech returns to campus
Amy Woodbury Tease, chair of the Department of Global Humanities, recently alerted the department to the development.
"While we cannot change the campus climate alone, we can model kindness and collaboration in our classrooms, and promote a set of shared values that provide support against acts of hostility and discrimination," she wrote in an early November email.
"I believe that the faculty and staff in our department will continue to set an example for our students and actively work to help mobilize a change in the institutional culture to emphasize inclusivity and belonging and to celebrate diversity," said Professor Woodbury Tease.
Yik Yak is an app where you can anonymously post thoughts so other people within a five-mile radius can read them. It was banned at Norwich in 2014, so users cannot get access using the Norwich wifi network. But users can easily access it using cellular data.
Norwich University faced the same problem eight years ago when students used the app to cyberbully and make harassing comments, according to a 2014 article in The Guidon.
"Our mission statement declares that Norwich University educates its youth to be 'moral, patriotic, efficient, and useful citizens,' the Norwich president at the time, Richard Schneider, wrote in a column for the campus newspaper. "Cyberbullying is immoral, unpatriotic, inefficient, and useful to no one."
Although school administrators said that the hate speech is taking place on several social media platforms, it appears students are more familiar with Yik Yak content. The posts on that site have recently included racist and threatening behavior towards international students, according to numerous posts reviewed by The Guidon.
Some threads consist of simple complaining, while others directly threaten students' safety, including a desire to kidnap a student and "declare" war.
''It is kinda disturbing for international students because we are new here in Norwich and in Vermont,'' said Madan Bista, 20, a freshman civilian biology major from Nepal. ''When I was in Nepal, I was expecting love from the United States citizens. But now I feel scared.''
Several international students told The Guidon that they are concerned about their well-being, and they would like a more concrete response from university officials.
"Because I saw those comments, and they were like, 'You all need to go back to the place you came from,'" said Shristangana Kc, 21, a freshman civilian communications major from Nepal. "If they can say it on social media, then that is their perspective on us, so I don't feel safe."
"If the matter worsens, then the police is a good option," she said. "Because I am afraid.
The Guidon emailed campus security numerous times seeking comment as to whether it was investigating the posts and whether the hate speech activity violated any specific policies or laws, but they did not respond to requests for interviews.
Hate speech recently returned to campus with the re-emergence of Yik Yak, a social media platform that allows users to make anonymous posts.
Leave a Comment
Your donation will support the student journalists of Norwich University. Your contribution will allow us to purchase equipment and cover our annual website hosting costs.
About the Contributor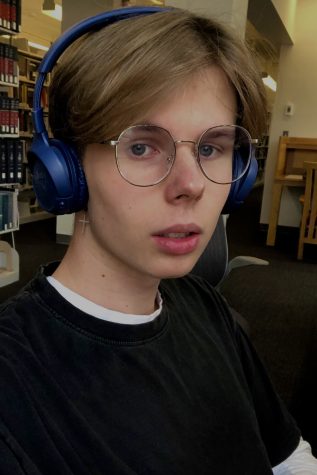 Andrii Shadrin, Campus Life Reporter
Andrii Shadrin is the Gudion's Campus Life Reporter. He is currently a civilian student, graduating with the class of 2026. He is majoring in both English...